Next Meeting: 11/16/2017 - History Night - Cold Saturday Farm
Finksburg Planning and Citizens' Council Inc.
Next General Membership Meeting
Who: All residents of Finksburg and its environs are invited
When: November 16, 2017, 7:00 PM - 8:30 PM
Where: Finksburg Branch, Carroll County Public Library
---

General Membership Meeting 11/16/17: Finksburg History Night! * Note special date
Cold Saturday Farm: https://www.facebook.com/events/845623392278167/
A historical look at one of the oldest farms in Carroll County
Presented by Mark Fraser, Ph.D.
Thursday, November 16, 2017, 7:00 p.m. to 8:30 p.m. Finksburg Public Library

On Thursday, November 16, the Finksburg Planning and Citizen's Council (FPACC) will hold a meeting devoted to local history. Open to the general public, the meeting will be held from 7:00 p.m. to 8:30 p.m. at the Finksburg Public Library, 2265 Old Westminster Pike, Finksburg.

The speaker will be Mark Fraser, Ph.D. Dr. Fraser is an avid historian and former curator of the Gatehouse Museum in Sykesville, Maryland.
His presentation focuses on the history of Cold Saturday Farm, also known as Clover Hill, located on Gamber Road (Route 91) in Finksburg and will include several historical photographs. The farm, settled around 1765, is one of the oldest and most elegant landmarks in Finksburg.

The presentation is free and advance registration is not required. For more information, contact Mark Fraser at 443-974-5017.

General Membership Meeting 10/26/17: Commissioner Weaver
Commissioner Weaver to attend Finksburg Planning and Citizens' Council Inc Meeting.
Citizens are invited to attend a meeting to hear "What's Happening in Carroll".
This is a wonderful opportunity to ask questions, share your concerns, thoughts and ideas. Commissioner Weaver will be available to discuss items of general interest to the community.

Carroll County to Apply for Finksburg to be Designated a Sustainable Community
The planning staff of Carroll County government invited Finksburg residents and local area businesses to participate in a work group to apply for Finksburg to be designated as a Maryland Sustainable Community. The work group met for the first time on June 12, 2017, and continues to meet monthly. Mount Zion Church serves as the host for the meeting.
Nokomis Ford, Comprehensive Planner from Carroll County government, is leading the meetings.
The Sustainable Communities Program is an initiative of the State of Maryland that offers various benefits to designated communities. The program seeks to improve the quality of life in designated communities by offering a toolbox of financing programs and tax credit incentives. There is no downside to the Sustainable Communities designation – it does not limit business or property owners in any way – and it can help provide partial funding for various projects. All incorporated towns in Carroll County already have this designation. Once designated, businesses and residents in a small area of Finksburg (a 600-acre region surrounding the old village of Finksburg) would be able to access a variety of state programs including:
• Support for projects that make the community more attractive to businesses
• Grants for renovation, energy efficiency, and acquisition for public benefit
• Support for businesses, including job creation tax credits
• Homeowner incentives to reduce vacancies
• Green improvements, lighting, streetscapes, and signage
• Strategic demolition of derelict buildings
• Financing to rehabilitate older properties
The work group has been asked to assist with elements of the application, including quality of life, economy, transportation, and housing issues, and coming up with ideas for improving the community over the next five years. The group will continue to meet until the application is submitted in February 2018. More information on the program is here: http://dhcd.maryland.gov/Communities/Pages/dn/default.aspx



Membership Dues:
A reminder that it's time to pay 2017 membership dues. To join or renew with our group, it only costs $10 per family and $25 for businesses. We accept online payments and checks. Please use the membership page. Business members are welcome to schedule a short presentation about their business at a general membership meeting. Thanks for your help and support.

The US Postal Service is Proposing a New Finksburg Post Office:
NOTICE OF PUBLIC MEETING AND COMMENT PERIOD
The Postal Service invites you to learn more about this project at a public meeting to be held Tuesday August 30th at 6:00 pm at the Finksburg Public Library, 2265 Old Westminster Pike. Additionally, for 30 days after the public meeting, anyone may submit written comments to the address below for the Postal Service's consideration prior to its final decision:
Richard Hancock, Real Estate Specialist, United States Postal Service
PO Box 27497, Greensboro, NC 27498-1103
919-420-5284, Richard.a.hancock2@usps.gov
2016PostOfficeMoveMeetingNotice.pdf | 2016PostOfficeMoveProjectLetter8-15-16.pdf

Proposed: Steak n Shake Restaurant & Planned Business Center, Dede Road:
NOTE: This is on the Planning and Zoning Commission Meeting agenda for 8/31/2016 @ 6:00 PM, room 204 of the County Office Building. The agenda will be posted 1 week prior to the meeting. http://ccgovernment.carr.org/ccg/compplanning/pzc/
LOCATION: North side of Baltimore Boulevard (MD Route 140), east of Dede Road. Technical Review Meeting 6/27/2016. The plan documents are: Document1, Document2, Document3, Document4, Document5, Document6.
Some comments from the June 27, 2016 meeting are as follows:
»Landscaping was disapproved – landscaping needs to be taken out of the MD-140 ROW (right of way)
»The Steak and Shake owners say they are limited to 99 seats.
»SHA (not present) – requires parking spaces be taken out of the ROW; developer is working with SHA to address this
»Emergency Services – Electric fire pumps must be tested monthly; diesel pumps must be tested weekly
»Comprehensive Planning – Site plan is consistent with the plan land use. The service road in place of Walnut Park Internal Circulation Road is sufficient. However, Planning requested extending the service road to the property line to enhance the consistency of the site plan with the Finksburg Corridor Comprehensive Plan.
»Developer says the 54 inch pipe within the utility easement and 6ft drop in grade could be a problem but willing to look into the feasibility
»A traffic study was done that is still being reviewed by Development Review

Possible Sandymount Elementary School Closure and Redistricting
Link to boundary adjustment committee report: http://www.carrollk12.org/Assets/file/BOE/BAC%20Final%20Report%2009092015_updated.pdf
Hundreds of Finksburg area residents have organized in an effort to keep Sandymount Elementary school open. Their web site is: http://www.savesandymount.org .



Finksburg is in the Maximize 2040 plan:
The plan, being developed by the Baltimore Regional Transportation Board, is called Maximize 2040 and will contain a list of major transportation projects the regional board expects to implement between 2020 and 2040. One item in the plan listed as a high priority item is: Md. 140: intersection and interchange improvements from Baltimore County Line to Kays Mill Road. Project includes adding bicycle and pedestrian lanes. - See more at: http://www.carrollcountytimes.com/news/local/ph-cc-maximize2040-transportation-plan-20150219,0,6699598.story?page=1

Proposed Vehicle Repair Facility, Crossroads Auto for property at Old Gamber Rd and Gamber Rd (MD 91).
The Carroll County Times reported on this project on July 30, 2016 (click to read). The Planning and Zoning Commission has the following item on their April 19th 2016 Agenda:Concept Site Plan Review
C. S-15-0005 - Crossroads Vehicle Repair Shop (1st Amended) - Owner/Developer Brian &
Virginia Dimaggio, LLC; located at the corner of MD Route 91 (Gamber Road) and MD
Route 879 (Old Gamber Road); Tax Map 64, Block 3, Parcel 499; E.D. 4 - CONCEPT
PLAN REVIEW, NO ACTION REQUIRED
See the meeting agenda here.
The following development plan was reviewed at the Technical Review Committee meeting starting at 9:00 a.m. Monday April 27, 2015 in Rooms 003 and 004 (Reagan Room) of the County Office Building, 225 N. Center Street, Westminster, Maryland. The developer or their representative were be available at the meeting to address any questions concerning the project.
A citizen comment period immediately followed the technical review of the plan. Citizen comments may be verbal or written. The development plan is available for review at the Department of Land Use, Planning, & Development, Room 204, County Office Building, 225 N. Center Street, Westminster, Maryland. For further information, please call the Bureau of Development Review at 410-386-2145.
9:10
PROJECT: S-15-0005 Amended Site Plan for Crossroads Vehicle Repair Shop
DESCRIPTION: Concept site plan for 18,000 square foot vehicle repair shop
LOCATION: Intersection of Old Gamber Road and Gamber Road (MD Route 91) E.D. 4
OWNER: Brian & Virginia Dimaggio LLC, 3425 Old Gamber Road Finksburg, MD 21048
DEVELOPER: same
ENGINEER: Steven K. Broyles & Associates, 2022 Brown Road, Finksburg, MD 21048
PROJECT MGR.: Clayton R. Black- cblack@ccg.carr.org

Rezoning request #220 for property at Old Gamber Rd and Gamber Rd (MD 91). The January 23, 2014 meeting was a community meeting to discuss this zoning change. A large crowd was present to discuss this topic. They included many residents from the neighborhood of the property as well as the property owner, Brian DiMaggio.
The board of county commissioners voted 4 to 1 to approve the zoning change at their open session meeting Thursday, December 19th at 1:30 PM, in Room 311 of the county office building. Only commissioner Shoemaker voted against the change. This is contrary to the unanimous decision of the Planning and Zoning Commission recommending to deny the change.
According to the Baltimore Sun, the owner of the property will not take any action for a month, in case the decision is appealed. According to the County Attorney, "An appeal would need to be filed within 30 days of the Board's written decision (Jan 23, 2014) to the Circuit Court for Carroll County. The appeal will result in a Court review of the evidence presented to the Commissioners and entails the preparation of legal memoranda and oral argument before the Judge."A Petition for Judicial Review (an appeal) was filed in the Circuit Court of Carroll County on 2/11/2014, Case # C-14-65779. Map of petitioners locations relative to the subject property. In February of 2015 the court found in favor of the County on this case. The petitioners have filed an appeal.

This was On the Planning and Zoning Commission Agenda for 10/15/13. At this meeting, the P&Z board voted unanimously to recommend to the Board of Commissioners Not to change the zoning, as they found no evidence that a mistake was made.

The owner of the site previously approved for an auto repair facility at this location has requested a zoning change from BNR (neighborhood business) to BG (business general). A BG zone would allow for a larger facility to be built or many other different business uses. This was "introduced" at the 9/17/13 Planning and Zoning Commission meeting and was listed incorrectly on the agenda as "Emory Rd and Old Gamber Rd".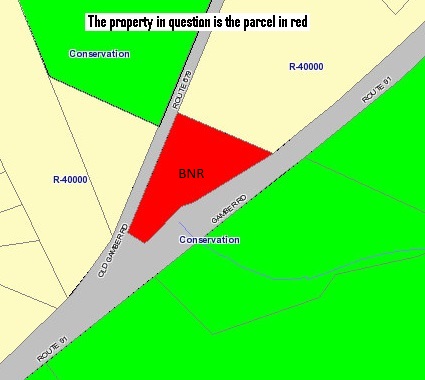 Click for: Zoning Request Map Site Survey

Finksburg Corridor Plan - APPROVED 8/29/2013: ( More Information)
At the 9/17/2013 planning and zoning commission meeting a discussion was held about implementation of the Finksburg Plan. The first step may be the rezoning of the above mentioned parcel and many others. See the Proposed Rezoning Maps.
The Finksburg Corridor Plan has taken over 10 years to complete. There have been numerous changes, starts and stops along the way. The incredible journey and timeline of this plan is documented here.



Attention Finksburg Residents and Businesses!
A gateway tax credit has been enacted for the Maryland Route 140 Corridor through Finksburg from the Baltimore County line. This proposal is important to the future development of the Finksburg Community. FPACC is a strong proponent of a Gateway Renovation Tax Credit. In a letter addressed to Lawrence (Larry) F. Twele, Director, Carroll County Department of Economic Development, we recommend that the proposed ordinance only be for improvement to existing businesses for facade, layout, signs, etc., that adhere strictly to the design guidelines. Furthermore we strongly urged them to consider the inclusion of the Planning Dept., the Planning and Zoning Commission, and the Rt. 140 Design Guidelines. Full Letter. The final approved ordinance was modified from what was originally proposed and addressed some of our concerns.

Be informed!  Attend the Next Meeting!